The Enigma of Franka 2
This series of articles arose from a thorough affection for the comic strip Franka of Henk Kuijpers. When you like something very much, then you look at it more precisely. And then sometimes a peculiarity strikes you. In this issue:
The Masterpiece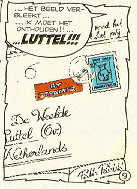 An important piece of the plot is the stamp from Mauritius. This stamp is so valuable, that it saves the countess from bankruptcy. Already in an early stage the stamp is introduced in the story (in 4.1.1 still a bit vague, but finally in 9.4.4 very clear) and then it starts to take a major role in the dénouement, starting with 41.2.3 (where Paletski still lives in Groterdam) and 41.3.1 to 4, subsequently along 42.3 to the "exposition" in 43.4.2 ("That's him! …The lightblue Mauritius…") and then from the threatening disaster of 43.4.3 ("it's ok to burn those old letters …") to the happy-end starting in 44.2.3 ("er, my grandson collects stamps ..."). Saved!
But … how can it be explained that Paletski has sent a letter from Mauritius?!? "The correspondence between Pablo and my father about the painting" (see 41.3.1) dates from before the argument, so (see above) from the time that Paletski still lived in Groterdam!!! Surely, there was no contact anymore after the fight (see for instance pl. 36, but especially 37.1.1), so it is not plausible that a letter of Paletski has a stamp of Mauritius!…!?!
---
© Martin Hooymans / Henk Kuijpers
Back to The Enigma of Franka (introduction)
Back to Our homepage
If you want me to go on with new translations of my Dutch pages please sign the guestbook


You can also read the guestbook or mail to Martin Hooymans
---
Last update: September 1, 1997.