The Enigma of Franka A2
In this special A-series we show some oddities in drawings. Or mistakes. Or aberrations. Or anything you like. In this issue:
Les Dents du Dragon
This is the cover of the French edition of 'The Teeth of the Dragon'. It is a very fine print, that forms a whole together with the second part of the story. We see Franka in the harbour of Motok, where you can buy everything. And also Franka is unable to resist the temptation: she buys a beautiful coloured wrap.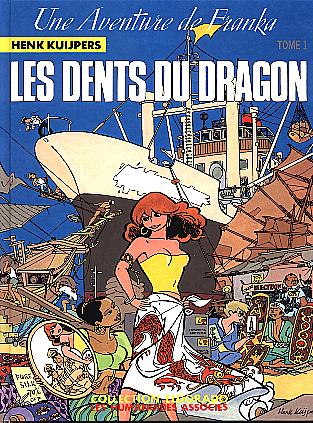 A charming native holds a mirror for Franka, so she can take a good look at herself. Apart from the two bully-cops we indeed can see a small piece of Franka in the mirror. But ... take a closer look ... what's that? The armband on her upperarm is clearly visible, but ... what happened to the bracelet around her wrist?
And if you look even better, then you can see that it is not a mirror image at all!
---
Thanks to Jopie (and for the addition: Dik Winter )
© Martin Hooymans / Henk Kuijpers
Back to The Enigma of Franka (introduction)
Back to Our homepage
If you want me to go on with new translations of my Dutch pages please sign the guestbook


You can also read the guestbook or mail to Martin Hooymans
---
Last update: October 21, 2000.