The Enigma of Franka A4
In this special A-series we show some oddities in drawings. Or mistakes. Or aberrations. Or anything you like. In this issue:
The Mysterious Cardoor in "The Masterpiece"
In The Masterpiece at first Franka is sent off none the wiser by countess de Weelde. She takes the train home empty-handed, but, because she does not trust it, she gets off the train the next station, rents a car and returns at night.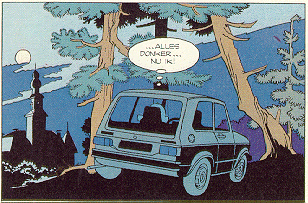 In 22.4.2 Franka leaves the car in the wood and sneaks in the dark to the estate of the countess. But ... she again gets soaked, so she has to go back to the car to change clothes. In 23.2.2 she examines how she looks in the reflecting window of ... ?!?
A cardoor that was not yet there in 22.4.2 !!!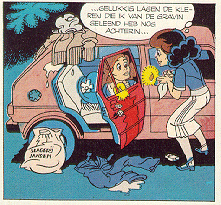 Considering the usual meticulousness one questions whether this concerns an inaccuracy, or that Henk Kuijpers has thought deliberately: "Here I simply need a cardoor, let's see if anybody notices ..."
---
Thanks to Dirk-Jan Hoek
© Martin Hooymans / Henk Kuijpers
Back to The Enigma of Franka (introduction)
Back to Our homepage
If you want me to go on with new translations of my Dutch pages please sign the guestbook


You can also read the guestbook or mail to Martin Hooymans
---
Last update: October 1, 1997.