The Enigma of Franka A5
In this special A-series we show some oddities in drawings. Or mistakes. Or aberrations. Or anything you like. In this issue:
Rejuvenation or Magic Trick?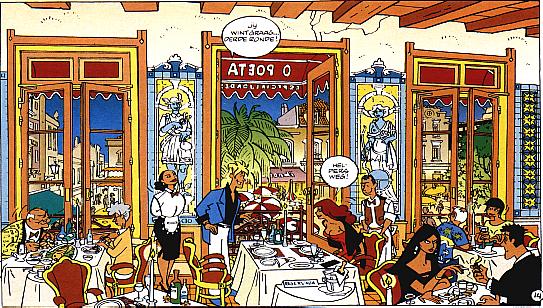 In The Portuguese Goldship Franka goes for diner with Rix to a really beautiful restaurant (14.3.1). A bit to the right behind Franka's back looking out the window we see a bolding man with a colourful shirt.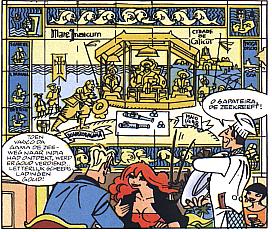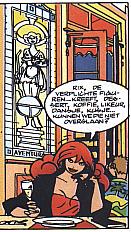 In15.2.2 we see him and his table-companion again, but his head is behind the dish with the lobster.
Now, when in the next drawing (15.2.3) the dish is gone ... he all of a sudden looks much younger with a thick head of hair !
Now if that isn't magic!?!
---
Thanks to Inge van Leijenhorst
© Martin Hooymans / Henk Kuijpers
Back to The Enigma of Franka (introduction)
Back to Our homepage
If you want me to go on with new translations of my Dutch pages please sign the guestbook


You can also read the guestbook or mail to Martin Hooymans
---
Last update: July 15, 2001.