The Enigma of Franka A7
In this special A-series we show some oddities in drawings. Or mistakes. Or aberrations. Or anything you like. In this issue:
Changing windows in "Cutthroat Competition"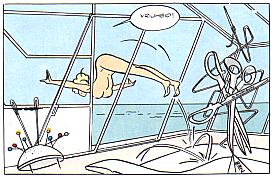 It is well-known that Henk Kuijpers quite often makes floor plans of the buildings where part of the action takes place. In this way he can choose his camera-positions more accurate. It makes it easier for him to find out whether a certain "shot" is possible or not. In the special edition of Moordende Concurrentie (Cutthroat Competition) he gives us elaborate schemes of Laura Lava's house in Parijs. Sometimes, however, things don't work out as they should.
In her beautifull house on the Côte d'Azur Laura Lava wakes up and takes a dive from her room into the swimming pool (see 29.2.2). And in the next drawing we can see the house and the surroundings from the outside.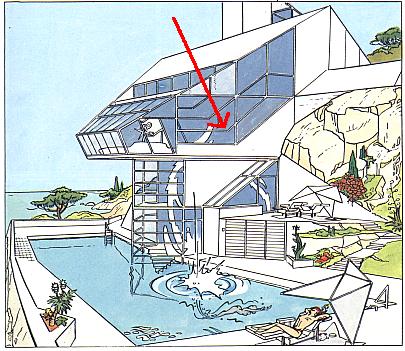 But ... it looks as if something has happened to the grooves of the window. Look at the first picture. The lower one left to the door bends up fairly quick, while the one above goes a lot more to the left.
In 29.3.1, however, the bottom one goes straight ahead!!! And it curves up much later (as seen from the outside to the right).
Oh, well, you can't construct a model for each and every house you use in the story, so there's allways the risk that something can go wrong ...
---
Thanks to Aart Zeeman
© Martin Hooymans / Henk Kuijpers
Back to The Enigma of Franka (introduction)
Back to Our homepage
If you want me to go on with new translations of my Dutch pages please sign the guestbook


You can also read the guestbook or mail to Martin Hooymans
---
Last update: September 13, 1998.